Small Seasonal Hamper Tray, 250L x 190W x 96H mm, White/Red Bauble
SKU: B1SDW
Looking for a Kiwi classic seasonal design hamper? Look no further than this large red bauble on white quick assemble hamper tray. Fully recyclable in NZ. Sold in quantities of 25 per outer.
Product Details:
Ideal for mid-sized gifts
Flat packed - save up to 60% of your storage space compared with traditional baskets
As strong as a basket - made from a double layer of E flute cardboard
Saves Time - easy and quick to assemble
Recyclable - enhances your sustainable story
Did you know this product can fit three standard bottles of wine!
Compatible Products: 
Clear Lid/Cellophane/Bows/Shippers
Click Here - For Lid options
ALL PRICES ARE EXCLUDING GST.
From $ 88.00NZD +GST
Sold in full packs only | 25 per outer
Small Seasonal Hamper Tray, 250L x 190W x 96H mm, White/Red Bauble
Other customers also brought....
Contact Us for FREE SAMPLES
Small Quick Assem. Tray 250x190x96mm High - Season - White
Small Quick Assem. Tray Seasonal Design, White
Code: B1SDW
Description:
100% recyclable
Quick and easy to assemble
Re-useable
Eco friendly alternative to baskets
Flat packed to save space
Strong design
Seasonal product available from September!
Dimensions:
250x190x96mm High
From $ 88.00NZD +GST
Sold in full packs only | 25 per outer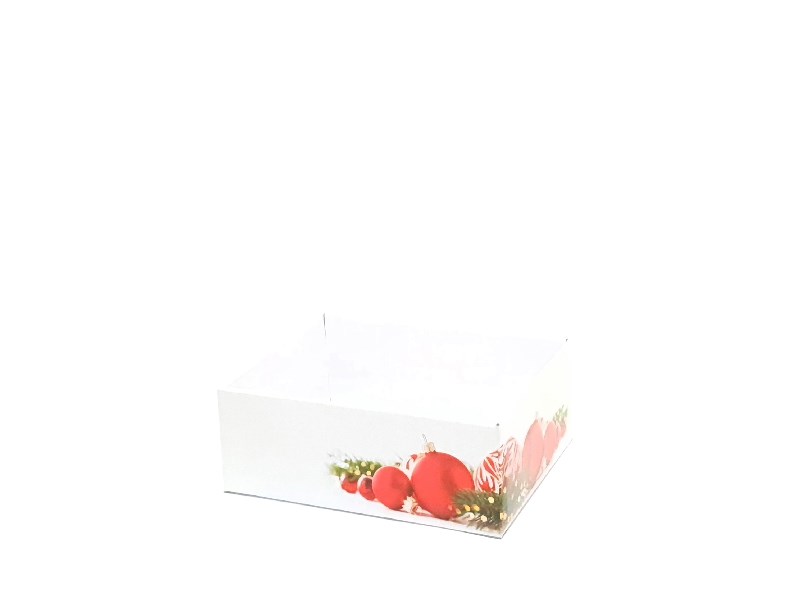 Small Seasonal Hamper Tray, 250L x 190W x 96H mm, White/Red Bauble